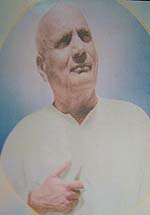 Punjab de naamwaar kawi
Nand laal noorpuri
da janam 1906 vich noorpur, district- layallpur(pakistaan) vich hoya..oh school teacher te police force(bikaner) vich assistant sub-inspector (A.S.I.)) vi rahe...jithe ohna ne bahaaduri purskaar vi jitya..
1940 vich police force chadh punjab wall rukh kar lya..
te Punjabi di superhit film "mangti" de geetkaar bane..te aneka hi
superhit geet likhe jive..
1.Shounkan mele di
2.Mainu diyor de viyaah de vih nach lain de
3.Gori diya jhanjharn balaundiya gaiya,galliyan de vich dand paundiya gaiya
4.Balle ni punjab diye sher bachiye
5.Chumm-Chumm rakho ni,kalangi jujhaar di
6.Maahi ghar aaya
7.Aitho udh ja bhole panchiya,tu apni jaan bcha

Ohna di maut to baad ohna da ikk kaav sangreh "Punjab Bolyaa " vi parkaashit hoya..
1947 di Bhaarat-Pakistaan di wandh to baad aapji jallandhar aa wasse...te aithe ohna da mukh kmaayi da sarot radio te kawi darbaar hi si....jo parivaarik jarurta layi nakaafi si...
Anta di gareebi te sarkaara de rawaiye to tang aa ke..13 May,1966 nu apne hi ghar kole bane
khooh vich chaal maar...aapna jeevan samaapt kar lya....rab ohna di aatma nu shanti deve...
kade yakeen nahi aaunda...Jawaana nu halla marn layi kehan wala te soorbirta vikha tagme jitan
wala eh yodha...gareebi te sarkaara di bekadari ne khaa laina...
Noorpuri ji ne kade likhya si..
"Suraj di dhupp,kite taareya di loye
Chaanana tuhadhiya jawaaniya da hoye
himmata de naal desh aapna shingaaro,
Hor halla maaro, shero hor halla maaro.."
Ohnu nu ih likhan te vi mazboor hona pya..
" Zoravar de naal yaraana saada mool na fabbe,
hathi pairi paisan beeba tere berhiya karhiyan..

Hathi koudi sari na koi mangte mangde firde,
Kehrhe vehni milakh jaagira oye sardaaro harhiya.."
Ardaas hai ..Nand laal noorpuri jehe laal ...bekadri de naal gwaye na jaan..
te Shayari khooha vich challa maar daffan hon layi mazboor na hove !!
Index
ਪੇਜ-੧
੧. ਭਾਖੜੇ ਤੋਂ ਆਉਂਦੀ ਮੁਟਿਆਰ ਇੱਕ ਨੱਚਦੀ
੨. ਕਿੱਥੇ ਮਾਤਾ ਤੋਰਿਆ, ਅਜੀਤ ਤੇ ਜੁਝਾਰ ਨੂੰ
ਪੇਜ-੨
੩. ਇਸ ਜੱਗ ਦੇ ਬੰਦੇ ਬੁਰੇ
੪. ਤੇਰੇ ਮਿਲਣ ਦਾ ਹੈ ਦਿਲ ਨੂੰ ਇੰਤਜ਼ਾਰ ਬਾਕੀ
੫. ਸੱਜਣ ਜੀ, ਮਨ ਦੀ ਮਨ ਵਿੱਚ ਰਹੀ
੬. ਉਹ ਦੁਨੀਆਂ ਦੇ ਬੰਦਿਓ, ਪੂਜੋ ਉਨਾਂ ਨੇਕ ਇਨਸਾਨਾਂ ਨੂੰ
੭. ਦਿਲਬਰ ਦੀ ਭਾਲ
ਪੇਜ-੩
੮. ਪੰਛੀ ਬੋਲ ਰਹੇ ਨੇ ਪਰ ਤੈਨੂੰ ਹੋਸ਼ ਨਾ ਆਈ
੯. ਦਿਲ ਨਾ ਤੋੜ
ਪੇਜ-੪
੧੦. ਸੌਦਾ ਸੱਚ ਦਾ ਵਪਾਰੀ ਕਿਵੇਂ ਕਰਦਾ ਫਿਰੇ
੧੧.ਤੂੰ ਦਿਲ ਆਪਣੇ ਨੂੰ ਸਮਝਾਈ ਬੰਦਿਆ
੧੨. ਬਿਨ੍ਹਾਂ ਕਫ਼ਨ ਦੇ ਲੈ ਚੱਲੋ ਯਾਰ ਮੈਨੂੰ
੧੩. ਮੈਂ ਵਤਨ ਦਾ ਸ਼ਹੀਦ ਹਾਂ, ਮੇਰੀ ਯਾਦ ਭੁਲ੍ਹਾ ਦੇਣੀਂ
੧੪. ਬੜ੍ਹਾ ਦੁਨੀਆਂ ਦਾ ਮੈਂ ਸਤਾਇਆ ਹੋਇਆ ਹਾਂ