P.E.G aka Punjab Enfield Generation is a Royal Enfield Motorcycle club. Punjab Enfield Generation club that was initiated by Royal Enfield lovers from different parts of the nation under the guidance of Gautam Jain and Pritpal Singh Lottey, who are popular in the riders world under the names of GJ and Baba Tufani. Gautam Jain hails from Ludhiana and Pritpal Singh Lottey from Mandi Ahmedgarh near Malerkotla.
These two Punjabi riders GJ and Baba Tufani have earned the credits for establishing first Royal Enfield Motorcycle Riders Club in Punjab last year ie; Septemer 2011. People from different walks of life are the members of P.E.G club.
Here are some photographs of the P.E.G. ride to Harike Patan.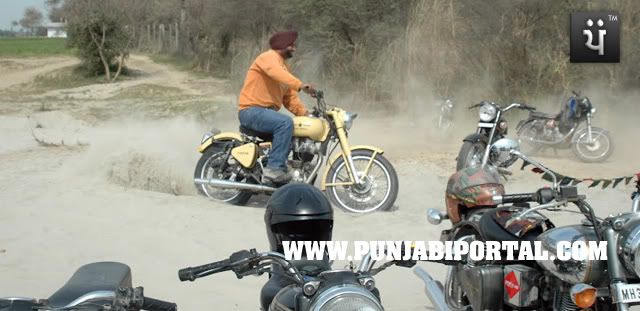 Image courtesy : robbiesingh
Anyone who is interested can join P.E.G club. There are few rules that the club has come out with which are mentioned below. So, if you wish to be a part of P.E.G club do read these.
1. As it is an Enfield Club you must Own one.
2. You need to attend a meet before you can join us for a ride.
3. Active participation in all club activites.
4. Kindly Wear all necessary gears( helmet,gloves,guards,boots etc.). We believe in arriving safe. Give priority to ur life and then your passion.
5.Kindly Leave your attitude ,ego problem outside the club as it will not let you fit in .
6. Any Irresponsible ,Nondisciplinary behavior will not be Entertained .Kindly Refrain your comments before posting.(Any Abusive,Violant Language will not be tolerated),We own a right to kick you out there and then.
7. Respect fellow riders and the Machines(Motorcycle) as without them we wont be here.
Kindly adhere to all the above terms.
For the Approvals(P.E.G's Family Member)
We'll be observing you for a 3 month period.Your presence in meets,rides and your attitudes towards other and your participation in club activities will be taken into consideration. (8206)