Every language or civilisation in this world has a nucleus or a central point. I consider Punjabi civilisation amongst the greatest civilisations of the world. Teheran in Iran has been the cultural centre of Persian civilisation for centuries. Lucknow is considered the premier centre of Urdu culture.
Now Karachi, the largest city in Pakistan, due to mass migration of Urdu speaking people from India has come to be regarded as an emerging cultural centre of Urdu. Calcutta, now Kolkata, is the natural centre of all Bengali culture, Indian and Bangladeshi. By the same token Bangalore is the centre of Kannada culture.
Applying the same yardstick, Lahore has been and still should be considered the centre of Indian and Pakistani Punjabi culture. This ancient city has been for centuries the natural capital of Punjab region. Prior to India's independence, Lahore was not only the administrative headquarter of Punjab province, it was also the centre of its language, poetry, music, drama, dance and fashion. Geographically also, two administrative divisions of Punjab namely Jullundur and Umbala were located to the East of Lahore division and two Rawalpindi and Multan were located to the West of Lahore. Thus Lahore administrative division was rightly considered the central division of Punjab.
When division of the Punjab took place in August of 1947 in order to create the Indian and the Pakistani Punjab, the province was bifurcated, the city of Lahore was claimed by both countries, but was awarded to Pakistan. As a matter of fact Lahore division was also not fully awarded to Pakistan. Out of six districts of this division two Amritsar and Gurdaspur were awarded to India. The remaining four districts Gujjranwala, Sheikhupura, Sialkot and Lahore of course were awarded to Pakistan.
Sitting next doors to Amritsar, when ethnic cleansing started in Lahore, the Hindu and Sikh population of Lahore was the first to move quickly to the closet districts in India. The rural population of Lahore tehsil hurriedly moved to Amritsar district. Some of the refugees were accommodated in rural areas of Amritsar, primarily in Ajnala tehsil and some in Amritsar, Tarntaran and Patti tehsils. The overflow of Lahore tehsil was accommodated to some extent in neighbouring princely state of Kapurthala in Sultanpur Lodhi and Kapurthala tehsils. The ruralite Lahori refugees mostly of Chunnian and Kasur tehsils crossed into Ferozepur district and were accommodated in Zeera, Ferozepur, Jalalabad, Fazilka, Muktsar and Moga tehsils. Most of the rural Lahoris not only maintained their culture in their new homes in districts of Amritsar, Ferozepur and Kapurthala, they went on to dominate the local dialect of these districts. In Moga tehsil, however, Lahori culture is playing second fiddle to the dominant Malwai culture.
Let us now discuss the plight of the language and the culture of the displaced urban population of Lahore. We have heard the language of Ustad Daman, Trilok Kapoor, Om Prakash, Ramesh Thakur, Karan Diwan, Jagdish Sethi, Dina Nath Zutshi, Usma Gilani, Amrita Pritam, Davinder Singh, Mohini Hameed as well as actresses Nishi, Indra Billi, Shyama, Kamini Kaushal, Noor Jahan and Suraiya and music directors like Husan Lal, Sardul Kwatra and Vinod. They all represented Lahori Punjabi. But this language and culture are getting extinct in India. Let us discuss how.
During the brutal ethnic cleansing of August and September of 1947, the city of Amritsar lost almost two hundred thousand Muslims constituting nearly half of its population. But Lahore by comparison was a much bigger city. It displaced more than three hundred thousand of urban Hindus and Sikhs. That created a huge logistic problem for the rehabilitation authorities in East Punjab. In the hindsight now I believe, the authorities in East Punjab, perhaps unwisely, decided to disperse the urban refugees of Lahore to far-flung destinations throughout the sub-continental India. The elite connected with the erstwhile film industry of Lahore had no option but to move to Bombay or Calcutta. Even Calcutta was losing its film industry to Bombay since early forties. In fact Bombay had started attracting film talent from Lahore also since 1943. Those Hindus and Sikhs connected to the film line in Lahore slowly made their own arrangements to settle in the film city of India. Within a few months of the partition, all those who were even remotely connected to films left Amritsar for Bombay, where after initial hiccups like sleeping on the pavements or going without food, they all became financially well off and professionally satisfied. Some other Lahoris even unrelated to the film folks also decided to shift their base in pursuit of greener pastures to Bombay.
By far the largest number of urban Lahori Hindus and Sikhs fell in the lap of the national capital New Delhi. During post independence rioting in Delhi, only fifty thousand Muslims left the capital for Pakistan, but more than two hundred thousand refugees from Lahore were almost immediately settled in Delhi. There was very little living accommodation for them in Delhi. In order to rehabilitate them, new colonies like Karol Bagh, Vinay Nagar and Patel Nagar etc were developed in New Delhi. Later on some of them settled on their own in new colonies of Rajouri Garden, Punjabi Bagh and Lajpat Nagar. Some such colonies should have been established in the thriving industrial and commercial city of Amritsar. Prior to 1947, New Delhi was primarily an Urdu- and Hindi-speaking city. Culturally it had not much in common with the Punjabi refugees from Pakistan. In addition to the shock of displacement from their homes and hearths, the refugees were faced with a cultural shock too.
The starved and impoverished hapless refugees never cared for their language and culture. Survival was uppermost on their list of priorities. According to the 1951 census, more than half of the million plus population of Delhi consisted of Punjabi speaking Hindus and Sikhs from Pakistan. Within the next ten years, they worked the hardest and thus established themselves financially, but in their quest for a better life in an alien city, they unknowingly started losing their culture. With the passage of time, the immigrants primarily from U.P. and Bihar started out numbering the immigrants from Pakistan. The older Punjabi speaking generation started diminishing in numbers and their younger generation was virtually unexposed to the ancestral typical Punjabi culture. Famous writer Khushwant Singh often wrote in his column that he used to go the Khan Market for shopping and gossiping, because most of the shopkeepers were from Lahore, he knew some of them before partition, but by the start of the new millennium most of the first generation is dead and the second and third generations do not speak Punjabi. Most expatriate Punjabis and their kids in Delhi understand Punjabi, but don't speak it. Within the next few years, spoken Punjabi will also virtually elope from most of Delhi.
Some of the Lahori Punjabis were settled in those places, from where some Muslims had moved to Pakistan. Such cities included Lucknow, Kanpur, Allahabad, Benares, Karnal, Meerut, Panipat and Gurgaon. Some Lahoris were officially settled in these non-Punjabi speaking cities. Some of the Lahori urban refugees eventually settled in large business cities like Calcutta.
During mid-fifties, construction on Punjab's new capital was started from a scratch at a new location in what we now call Chandigarh. The intention of the government was to settle in Chandigarh as many refugees from Pakistan as possible. But by this time the displaced Lahori Hindus and Sikhs had mostly settled throughout the urban agglomerations of Indo-Gangetic Northern India and elsewhere. It was difficult, rather impossible for them, to move lock stock and barrel to Chandigarh. At that time even the future of Chandigarh looked not much certain.
Eventually, very few expatriate Lahori Hindus and Sikhs settled in Chandigarh. Those who did move to Chandigarh are a happy bunch of people now. During subsequent years some of the Hindu and Sikh refugees, for cultural reasons or otherwise returned from other far off places throughout India to Jalandhar, Kapurthala and Amritsar. But their number out of total displaced Lahoris is not more than one third. Before partition of Punjab, more than sixty percent population of the city of Jalandhar was Mohammedan. When they moved to Pakistan, their replacement population of Hindus and Sikhs came mostly from Sialkot district of Western Punjab and some Lahoris also joined them. Initially the refugees were a subdued lot, but they worked really hard and assimilated themselves quite well within the local population. The dialect of the refugees is now the dominant language of Jalandhar. It can now be confidently said that the frontier of Standard Punjabi language has moved Eastwards from Amritsar district in the Majha region to Jalandhar city in Doaba region. In post-independence scenario Jalandhar has replaced Lahore as the media capital of Indian Punjab. Amritsar still continues to be acknowledged as the linguistic centre of Punjabi language in India. Most of the Punjabi newsreaders are still being recruited from Amritsar. But the rich Lahori culture seems to have become the casualty of the partition of Punjab. Lahori culture is not totally extinct in India yet, but, by attrition, it is dying a slow death. It will remain alive in Amritsar, Ferozepur, Kapurthala and Jalandhar and to some extent in Ludhiana. But in Delhi, Bombay, Chandigarh and far off places in India, its demise is not too far away. This is a bitter truth.
Within his home in Bombay, Prithvi Raj Kapoor used to speak chaste Lahori Punjabi. His sons Raj Kapoor and Shammi Kapoor also spoke Punjabi at home. Shammi Kapoor's pre-marital romance and courtship with Geeta Bali was all in Punjabi. Recently I met Randhir Kapoor in New York, he was speaking Punjabi, but not as fluently. His daughter Krishma Kapoor understood Punjabi, but she was not speaking it. This shows how Punjabi is suffocating to death in non-Punjabi speaking environment. The two high powered rehabilitation commissioners in Indian Punjab, Sardar Trilok Singh and Dr Mohinder Singh Randhawa, did a splendid job in resettling the displaced Punjabis from Pakistan, but by distributing the urban Punjabi refugees all over India, they sadly ignored the fact that their rich language and culture will eventually get extinct.
Both Lahore and Amritsar lost their shortest rail and road links, via Kasur, with their cousin city of Ferozepur. But more than six decades after the partition of Punjab, both the Amritsar – Ferozepur railway link and road link are being re-established via Patti. At present, due to the indirect route, travel between Amritsar and Ferozepur is not much, but when the new shorter links are established, there will be more intercity trade and travel between Amritsar and Ferozepur and that will help in promoting the Lahore culture. Both border cities still possess the remnants of Lahori Punjabi and Lahori culture in India. The airwaves of Radio Pakistan Lahore and PTV Lahore as well as of Doordarshan and All India Radio in Amritsar do not honour any borders. Such linguistic and cultural links are also partially keeping Lahori culture alive in the border region of East Punjab.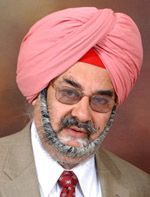 harjapaujla@gmail.com (1205)