This is what the political wars have come down to. SAD (Shromani Akali Dal) started putting up 1000+ ads per day on every single Punjabi TV & Radio channel admiring the great deeds done by Badal Saab in the past 5 days, which for some reason no one has visibly detected and exist only in the Ads. Just doing the Math over these Political Ads can make your mind go numb. These ads have been appearing in every commercial break 24/7 on every Punjabi TV channel and Radio operator. Just calculate how much money has been spent on these ads and how easily the money of Punjabi Tax payers have gone down the drain to rich these Channel operators. Really sad.
In a retort to these false claims of development in Punjab, Punjab Pradesh Congress Committee (PPCC) came out with two characters Jeeta and Jaggi who started declaring these claims as false in a sarcastic tone. These characters have their own Facebook Fan Page and they are quite prominent on Google and other online Adsense networks. Once again, tons of money spent in advertising to International Ad Networks.
In a counter attack SAD has come out with Jhootha and Thaggi who look exactly the same as Jeeta / Jaggi and now make same sarcastic comments at Congress. While it's fun to watch these aged politicians bickering at each other like children, it's sad that so much money is being wasted on political campaign.
An Ad slot on a Punjabi TV channel costs around 500 Rupees per 10 seconds on average. These Ads run for 30 seconds each. Just imagine the possibilities of this money. They could have started a school with it, they could have given it to a hospital, they could have mended the broken roads of Punjab. But no… they had to give this money to TV Channels and their owners. How easily they have given Punjab's money to corporate giants.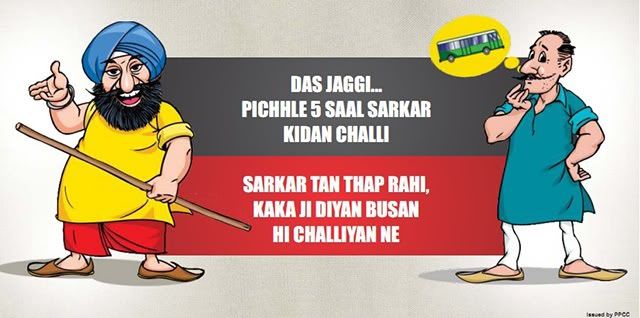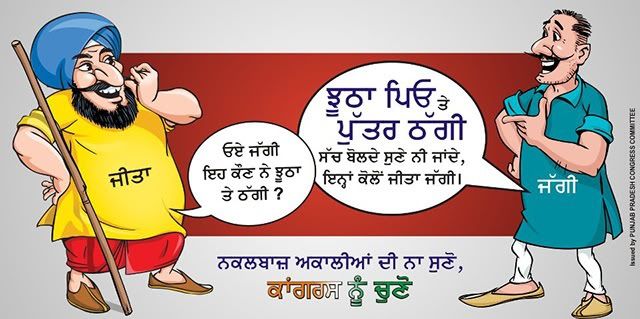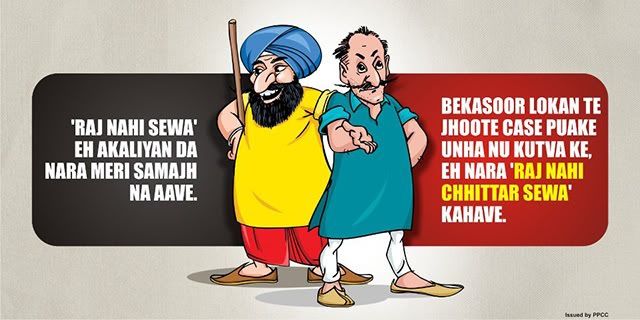 (8100)